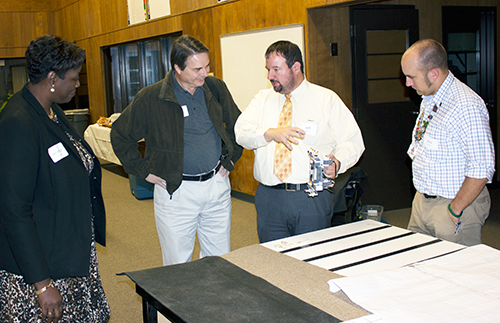 The AMP-IT-UP Advisory Board consists of Griffin-Spalding County business and community leaders, Griffin-Spalding County Schools personnel, Georgia Institute of Technology disciplinary faculty, and external experts. The advisory board meets annually to ensure the partnership's vision, goals, and outcomes are met and to provide input in areas such as partnership, curriculum development and implementation, and research and evaluation concerns. The AMP-IT-UP Advisory Board includes:
Business and Community Leaders
Ron Alexander, Chief Executive Officer, Candler Field Museum
Mark Andrews, Executive Vice President of Economic Development, Southern Crescent Technical College
Be-Atrice Cunningham, Project Manger, University of Georgia-Griffin Campus
Carla Eidson, Recruiter, Spalding Regional Hospital
Sally Flouroy, Translator, Hoshizaki
Dawn Hodges, Vice President of Academic Affairs, Southern Crescent Technical College
David Luckie,

Executive Director,

Griffin-Spalding Development Authority

Bonnie Pfronger,

Executive Director,

Griffin Chamber of Commerce

Reddy Pingili, Operations Manager, Bandag
Rick Stephens,

Plant Manager,

Sumika Polymer

Doug Tingle, Board of Managers, 1888 Mills
Kristen Williams, President, Penco Electrical Contractors
Sarah Zigler, Human Resources Supervisor, Caterpillar, Inc.
Griffin-Spalding County Schools
Ashley Crawford, Director of K-12 Curriculum, Griffin Spalding County School System
Darrell Evans, Principal, Griffin High School
Dr. Laura Ergle, Director of Career, Technical, and Agricultural Education, Griffin Spalding County School System
Graham Fletcher, Math Curriculum Coordinator, Griffin Spalding County School System
Eric Harper, Engineering Teacher, Griffin High School
Larry Jones, Principal, Rehoboth Road Middle School
Laura Jordan, Principal, Cowan Road Middle School
Kiawanna Kennedy, Assistant Superintendent of Administrative Services, Griffin Spalding County School System
Barbara King, Science Curriculum Coordinator, Griffin Spalding County School System
Judy Parker, Executive Director of Communications and Partnerships, Griffin Spalding County School System
Sharlene Patterson, Assistant Superintendent of Curriculum and Instruction, Griffin Spalding County School System
Lindy Pruitt, Principal, Spalding High School
Dexter Sands, Principal, Kennedy Road Middle School
Jim Smith, Superintendent, Griffin Spalding County School System
Dr. Tiffany Taylor, Principal, Carver Road Middle School
Georgia Institute of Technology
Larry Alford, South Metro Regional Manager, Georgia Institute of Technology Enterprise Innovation Institute
Dr. Meltem Alemdar, Co-Principal Investigator
Sabrina Grossman, Teacher Liaison
Bonnie Harris, Summer Internship Program Director
Jeff Rosen, Co-Principal Investigator
Dr. Marion Usselman, Co-Principal Investigator & Program Director
Dr. Bill Wepfer, Principal Investigator

Advanced Manufacturing and Prototyping Integrated To Unlock Potential (AMP-IT-UP)
is made possible by a grant from the National Science Foundation (Award Number: 1238089)